Update: The MacBook Air 2018 CPU has been outed, one day after the Apple event, thanks to Intel. We've added some analysis about its potential performance in the hands-on review below. We also have the US and UK prices listed now, as it's up for pre-order.
The MacBook Air is back, and it's ready for 2019 with a slimmer design, a higher-resolution Retina display, fingerprint sensor security, and better performance than the original MacBook Air you knew and loved over the last decade.
This is poised to be Apple's best entry-level MacBook – it's cheaper than the 12-inch MacBook and sports a larger 13.3-inch screen size. It has 17% less volume than the previous MacBook Air, and weighs just 2.75 pounds (1.25kg).
It inherits some other features from today's beefier MacBook Pro 2018: USB-C (Thunderbolt 3) ports and Touch ID. There are still individual function keys, meaning there's no fancy Touch Bar across the top of the keyboard, but Apple has added the fingerprint sensor by embedding it in the keyboard within that same top row.
The entire MacBook Air 2018 keyboard is low-profile now, which is a change that older MacBook Air users will have to get used to. We found that the keys had more travel, and felt more durable than those on Apple's first-generation Butterfly keyboard on the original 12-inch MacBook (and which we found had reliability problems).
You're also going to have to get used to USB-C ports if you're upgrading to this MacBook Air, but the good news is that there are two of them; the bad news is that while we weren't expecting the four USB-C ports found on the MacBook Pro, we would have preferred the USB-C ports to be on either side of the MacBook Air for more versatile charging.
This is Apple's first Mac made of 100% recycled aluminum, and the company took great pleasure in explaining how it captures shavings of aluminum and re-engineers them down to the atomic level to get there; it's not the only aspect of the Air that's been re-engineered, so here's what we think of the MacBook Air 2018 so far.
Price and availability
Okay, it's not the $999 MacBook Air you were hoping for, but the MacBook Air 2018 price makes this technically Apple's most affordable laptop at $1,119 (£1,199). It starts at $200 (£200) more than before.
That gets you the new Retina display with an 8th-generation Intel Core i5 processor, 8GB of memory, and 128GB of SSD storage inside. The price, of course, goes up from there if you upgrade things like the memory and storage, which now max out at 16GB and 1.5TB respectively.
To some, that's going to be a great price compared to the costlier 12-inch MacBook and the top-tier MacBook Pro. For some budget-conscious students, however, the four-figure price tag is going to seem like a big jump: "The price has a comma!"
For comparison, the Dell XPS 13 starts at the magic $999 (£1,270, about AU$2,200) price, for a 1080p display and quad-core Intel processor inside compared to the MacBook Air's higher-resolution display, but dual-core chip.
The Huawei MateBook X Pro comes with a slightly larger 13.9-inch display that has a 3K resolution, quad-core Intel processing, and double the storage for the same starting price of $1,199 in the US (about £900 or AU$1,600). It's just a smidgen heavier than the Air.
The new MacBook Air 2018 will start shipping to customers on November 7, with pre-orders available right now.
Display
The new MacBook Air 2018 has a familiar 13.3-inch display size, but that's where the LCD screen similarities end. There's a lot less bezel here, and a lot more pixels.
To be exact, the new MacBook Air display comes out to 2560 x 1,600 pixels in a 16:10 aspect ratio. That amounts to 227 pixels per inch (ppi), which is a little sharper than the MateBook X Pro, and easily outclasses the entry-level XPS 13. 
This is the first Retina display for a MacBook Air, giving the screen more than four times the resolution of the prior Air laptops. It looks gorgeous. The jump from a 900p display to a Retina display is the first big change you'll notice when opening up the lid. If you've found the 13-inch MacBook Pro screen impressive, good news: this has the very same resolution. The only thing missing is the True Tone display found in the very latest generation of Pro laptops.
Just as important as the higher resolution, the viewing angles have improved dramatically. That's been one of the biggest pain points using old MacBook Airs, to the point where tilting the screen a little bit away from our faces made the screen pretty much impossible to view. The 2018 MacBook Air fixes that. It was only at the most extreme angles that we saw a lot of reflection from the anti-glare glass that's protecting the LCD screen. 
Our overall feeling toward the 13.3-inch screen is simple: like the new pixel count, our enjoyment of a Retina Display MacBook Air is four times greater than before.
Design
Apple has also shaved 50% of the surface area off the borders from the original MacBook Air design, which now looks completely dated by comparison. And these thin borders are black, not silver, so the remaining bezel doesn't stand out as much.
Everything about the tighter design helps to highlight the Retina display. It's like the aluminum body went on a diet, but the 13.3-inch screen did not. The 17% less volume stat we quoted earlier translates to dimensions of 11.97 x 8.36 x 0.61 inches, and there's a still wedge-shaped design to this Air, so it tappers to 0.16 inches.
Interestingly, the new MacBook Air actually has the same width and depth as the 13-inch MacBook Pro, while it's a bit thicker and lighter. And it's in striking distance of the 12-inch MacBook, which has older internal specs and a lower-resolution FaceTime camera. It's really becoming hard to decide on which MacBook offers the best combination of a svelte design, but optimal performance for our everyday workload.
Here's something that may help to sway you: the USB-C ports. There are two of them, which is actually enough for most people, and just fine for the MacBook Air laptop class. After all, the last-generation MacBook Air design had two standard USB-A ports. 
Our chief concern here is that both USB-C ports are on the left side of the laptop. In our testing of the MacBook Pro with four USB-C ports (two on each side), we found it helpful to have the option to plug in charging cable from either side. Sometimes an outlet (especially when traveling) is just far enough away that this matters. Sometimes you're in a tight airplane seat with a wall flush left against your MacBook. Sometimes you just want to lay on the couch or in bed watching a movie and switch sides. This is all going to be a little more complicated with the MacBook Air 2018 design.
What's on the right side then? Well, more good news if you're someone who doesn't want to see the 3.5mm headjack jack go away. The new iPad Pro doesn't have this jack, but the new MacBook Air does. And, hey, while this Air has two left-facing USB-C ports, everything is better than the first Air design, which had just one USB-A port.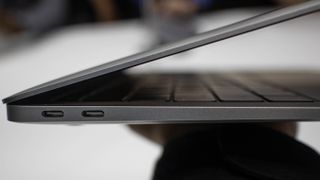 Note: we haven't said a peep about the death of the MagSafe 2 power port in the new Air, and you shouldn't either. It's okay. Yes, MagSafe was a really inventive idea, but the versatility of USB-C charging has proven itself over the years on the MacBook Pro laptops. And, unlike MagSafe, it isn't prone to easily falling out. Down the line, if you get a 3rd-generation iPad Pro, it too charges via USB-C, and the fewer proprietary cables, the better.
The new MacBook Air has stereo speakers and a three-microphone array, which Apple claims to have fine-tuned for stronger volume and bass response – we'll need to get more testing time with the MacBook Air before we can really offer an opinion about the speakers.
We did, however, get to 'click' the Force Touch trackpad to our heart's content. It's 20% larger than the old Air touchpad, offering more room for gestures and to move the cursor around. You won't want to go back to a smaller trackpad once you try it. 
And Apple is finally giving you some choice of colors: Space Gray, Gold, and traditional Silver. But you're going to have to finally give up your glowing Apple logo – the thinner lid design doesn't accommodate this particular piece of design flair.
Performance and battery
The MacBook Air has an 8th-generation, dual-core Intel Core i5 processor, and that's all Apple told us at first. It's typically cryptic about the exact Intel chips it uses.
One day after the launch event, Intel outed the chipset as the Intel Core i5-8210Y processor, just as Anandtech had predicted. Previously, the only other dual-core, 8th-generation Intel processor is a Y-series Intel Core processor crafted for laptops with fanless designs.
However, the new Intel Core i5-8210Y is a new chipset that lists its Thermal Design Power (TPD) spec as 7W, and it may in fact have a fan, according to the on-stage glimpse of the insides of the MacBook Air. That's unlike the lower-powered 12-inch MacBook.
We can't make hard judgments on performance in a hands-on review, and we'll need to run tests to see what all of this means regarding the MacBook Air 2018's power profile. All previous MacBook Air models ran fan-cooled designs with full-fat mobile processors.
This MacBook Air is poised to carry the brand's torch when it comes to battery life, rated for 12 hours of local video playback or 12 hours of wireless web use – although just just imagine what this figure would have looked like with, say, a just-fine 1080p display and quad-core processor behind it. Every other Retina MacBook is rated for 10 hours of battery life, according to Apple's own estimates, so this may be where the Air finishes ahead of its costlier counterparts.
Rounding out your performance options are up to 16GB of DDR3 memory and as much as 1.5TB of SSD storage (but that's where it really gets expensive).
Early verdict
Apple has finally come through with the four million pixels its 'most loved Mac' deserves, and it shrinks the body by 17% to better reflect the 'Air' name for 2019. What hasn't changed is the classic screen size – it's still 13.3 inches, with narrowed bezels and black borders to further highlight the awesome display.
With a newer Intel Core i5 chipset, faster RAM, and biometric Touch ID security, this is a sizable leap over the last MacBook Air update. You can get better specs for you money from some Windows laptops, but this is the best for a macOS machine. It's your 'cheap' option if you're invested in Apple's cohesive software ecosystem, and the right starting price for most people. You'll have to adapt to two USB-C ports, and deal with them being on the same left side, however.
The original MacBook Air fitted into a manilla envelope, as Steve Jobs artfully demonstrated a decade ago. The new MacBook Air 2018 is smaller, lighter and more powerful, fitting into the modern computing landscape just as neatly. And it still comes at a fairly affordable price – for a MacBook.