The best Walmart Black Friday deals 2018
Jump to deals by category:
1. The deals live now
2. Deals live from Nov 18
3. Deals live from Nov 22
Our editors search through thousands of deals to unearth the best prices from the most trustworthy retailers. You can support us by clicking these independently selected links, as we may earn a commission on any purchase you make – but at no extra cost to you.
Gareth Beavis
We've now seen all the big Walmart Black Friday deals that are coming for Black Friday and Cyber Monday date, seeing prices that are offering a lot of tech for a lot less.
The Walmart Black Friday sale prices we're seeing are centered mostly around TVs – as you might expect – with sizes of around 50-inch being the most popular. Walmart is also offering some decent Black Friday laptop discounts to get your teeth into, with a wide range of prices on offer.
There are also early deals incoming, with a 1TB PS4 with Spiderman being shown for a very competitive price – so we've split the deals into three parts, with different dates for stuff going live.
Weirdly, Ellen is also getting in on the act, with the TV show host finding a way to offer $10 off some of your purchases throughout this discounted period – new Walmart.com members just need to enter  Ellen10  at the checkout to get the discount on anything over $35.
In terms of timing, the proper Light Up discounts go live in stores on Thanksgiving at 6PM ET, but you can nab early deals from 10PM ET the day before – we'd suggest taking a look at the Fitbit Versa and incredibly cheap Hisense TV deals first and foremost.
Deals live
Gareth Beavis
These are the deals live now, and we'll be adding to these daily where new options crop up or items run out of stock.
Samsung UN55NU6900 55-inch 4K TV – $699.99 now $398
The TV is supposed to be discounted from November 22 but is showing as available for pickup from November 20 – we've not tested this one but for the price you're getting HDR10+, although obviously not the full gamut of high-quality screen features.View Deal
Samsung 75-inch Class 4K Ultra HD TV – $4,199 now $1,997
For more than half off the sticker price, you can snag Samsung's colossal 75-inch TV, which is great for anyone who needs a giant screen in 4K. With 2160p resolution and a 240hz refresh rate, Dolby Digital Plus sound and Samsung's smart TV system (with Bixby, if you wanted it), this is a solid pick.View Deal
Lenovo Tab E7, 7-inch Android tablet – $99 now $59
Lenovo recently introduced the Tab E7 as part of a group of new low-cost tablets and it's already getting discounted. You won't be able to do anything fancy or graphically-intensive, so don't expect it to handle gaming terribly well. But if you just want an extra device to surf the web, read ebooks or stream some content, it's not the worst price out.View Deal
Coming Nov 18
PS4 1TB and Spiderman bundle – only $199
If you want a good deal on a PS4 –  especially one that's got 1TB of storage, and one of the best games of the year – this is a stellar deal that's far cheaper than anything we've seen this early on.View Deal
Xbox One X 1TB console – $448.45 now $399
Looking for the latest Xbox console from Microsoft? Then this is the deal for you – with ample storage inside and a fairly decent price drop, it's worth keeping an eye on as it'll still be going during Black Friday. Expires November 26View Deal
Coming Nov 22
Gareth Beavis
These are the main 'Light Up' Black Friday deals at Walmart, and although they're tagged as coming November 22, you'll be able to get clicking and buying from 10PM ET on November 21 – so mark your calendars to bag one of these if you're interested.
Hisense 40-inch Full HD TV – $178 now $99
Do we really need to go into this one? Sure, we've no idea about whether or not it's actually a good screen, but Hisense has been making decent budget TVs for a little while now and for under a hundred bucks, this is a great choice for a second set. Expires November 23View Deal
Vizio D60-F3 4K TV with HDR – $598 now $498
This is a tricky one in terms of a recommendation – one that we've not tested, and the size of the screen for the price rings some alarm bells in terms of overall image quality – although it does have active backlight dimming and Dolby Vision, which is impressive for the price. Expires November 23View Deal
Fitbit Versa – $199 now $149
The Fitbit Versa is a pretty decent wearable without a price reduction – so with this drop it's a very good choice. The slimline design and the range of features impress, and it's a real cut-price alternative to the Apple Watch (although it doesn't have GPS). Expires November 23View Deal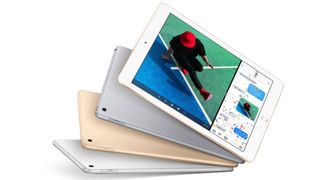 iPad 9.7 (2018) – $329 now $249
We were certain that this new iPad, which now comes with Apple Pencil support, was going to be a big hitter in this year's sales and we were thoroughly right – this is going to be a great price for the new tablet from Apple. It's only live for a day, so snap it up if you're after a new model. Expires November 23View Deal
HP Pavilion 15.6, Intel Core i5 – $599
If you're looking for a laptop that doesn't bring the added grunt of the HP Pavilion Gaming 15.6, then the 15-CX0056WM is a choice that still offers plenty of spec and a decent amount of RAM too.
View Deal
When to get Walmart Black Friday / Cyber Monday deals
Gareth Beavis
Sure, Black Friday starts on November 23, and Cyber Monday begins on November 26, but Walmart is already getting in on the act. The sale is already on, and the first wave of deals will begin from November 18.
But as you can see, there will be more ahead of time, with Black Thursday apparently becoming a thing for the brand. We're also hoping to hear more on some top deals from November 16 onwards, so you can really plan your top choices.
How to get the best deals at Walmart on Black Friday / Cyber Monday
Gareth Beavis
Rollback prices aren't hard to find, but seeking out the best items amongst all of the stuff Walmart sells is a difficult process. That's why we're here to help. We'll be tracking Walmart deals like NORAD tracks Santa's reindeer every Christmas. You're going to find the best prices here between November and the end of 2018.
For us, the key tell at Walmart is the Black Friday ad scan, which outline every major sale. These fliers spill the beans on top tech products and the discounts that will accompany them on Black Friday and Cyber Monday.
Between our tracking and outing the Black Friday ads, you're going to be set when it comes to discovering filtered deals until Cyber Monday and beyond. 
Reasons to choose or avoid Walmart
Gareth Beavis
Walmart is the one of the better stores to find some of the cheapest prices and even exclusive discounts. It's also the one place you can find create your own console bundle options. We haven't seen too many stores in the US venture out on this path.
Of course, it doesn't always have the best prices and can't compete with some of its online-only rivals. That's why Jet exists, with Walmart as its owner.
Stick with TechRadar to get the best deals
Gareth Beavis
We can't predict what products will go on sale with perfect accuracy, but we'll be tirelessly updating this article for the latest deals, bundles and other discounts you shouldn't miss from Walmart on Black Friday and Cyber Monday. 
If you want to keep an eye on the best deals, you can enter your email address below to join our mailing list so you'll get all of the information ahead of the Black Friday deals later in the year.